---
---
Threw this together while wathcing t.v. nothing special.
---
Posts: 2333
Joined: Thu May 03, 2007 2:31 pm
Location: Henderson, NV
Contact:
Show it in action

~Steve

~proponent of a strong salvation army, born again Calvinist, cunning linguist, flaming heterosexual

"Life is too short to drink shitty beer"
---
---
I've had wicker shelves hung on the wall for years, and yesterday I made two plywood brush holders and mounted them.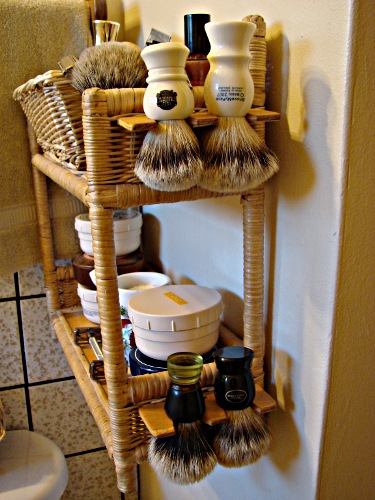 Really simple, they're hand-made and totally look like it, but they work fine.The first one took almost 2 hours, but most of that was wasted on finding tools and stuff in the damn shed. The second one took 15 minutes.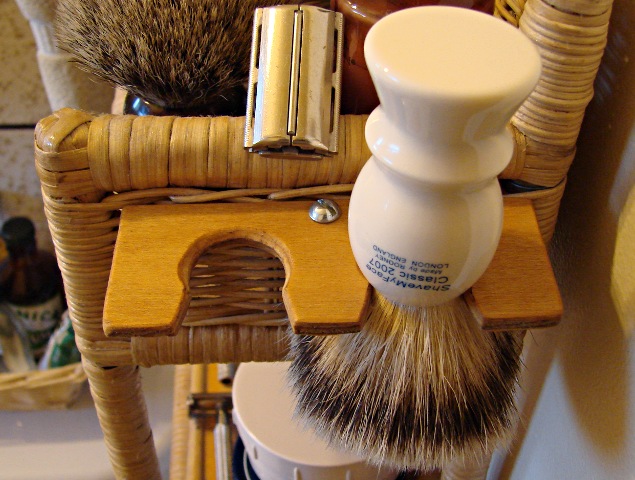 --Glenn
---
guru wrote:Sure would have liked to see your stand. I made one out of hanger wire myself and was curious what you came up with. What happened to the images?
I agree. It seems like many image hosting sites drop the pictures after awhile, maybe a couple of years. Some sites even reissued the old URLs to new pictures; when that happened, some of our old threads took on new meanings, when random images replaced the original ones. Some of the changes were actually pretty funny!
--Glenn
---
Clive the Thumb
Posts: 8203
Joined: Mon Nov 06, 2006 11:59 am
Glenn

Good stuff and while I have your eyes, welcome back to the land of the living HAHAHA. Missed seeing you around dudester

Clive
de gustibus non est disputandum
---
Hey Clive, thanks for the shout-out.

By the way, what do you think about that big old brush in the background, on the top shelf? Incredible thing: Just like lathering up with a mink coat! It's been known to shed a little bit, though.

--Glenn
---
tonyespo wrote:

proFeign wrote:

tonyespo wrote:Dremel Tool and sandpaper.

wow that must have been a ludicrous amount of work...

It was very time consuming. I broke the first two I tried. Finally the third piece of wood didn't crack and I was able t get it shaped out correctly. After that the finishing wasn't too hard. It's a beautiful brush and it has special meaning to me because it was Dave's brush.
Nice work. Special brush.
Gary
---
I have a brand new boar brush - or I will tomorrow night, once the epoxy is fully cured.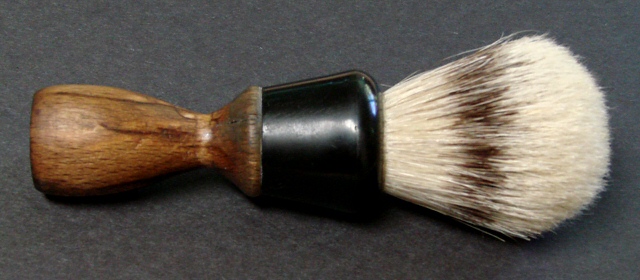 The wood-and-plastic handle came in a lot of eBay razors nearly three years ago. The brush was disgusting: bristles thin, worn,
and dark brown, the handle moldy from water penetrating the cracked varnish. I put it in a bag and forgot about it.
Recently, due to the advent of hand sanitizer (thanks, swine flu!), I felt safe enough to put a new knot in it. I bought some boar
knots from Tboner; Zach says "they are made by Delong in China and they're not bad at all, but not Omega, either." The
socket had to be enlarged from 21mm to 24mm for the new knot.
I planned to paint the disgusting handle, but after removing the old varnish and sanding it well, I showed it to my wife; she
thought the water stains gave character and urged me to simply use tung oil. The other task was to sand the ugly logo off the
black plastic, and shine the plastic with fiberglass polish (true, it's softer than fiberglass, but it still polished up well).
Tomorrow night, I'll shampoo it a few times, and lather up some Proraso to kill the inevitable wet hog smell.
--Glenn
---