Resurrecting an old strop
Posted:
Sun Feb 05, 2017 8:22 am
This last few days I've been revivifying my Old Dog strop. I don't think HandAmerican operates any more, which is a shame as Keith D'Grau had some lovely products, such as his liquid chrome (CrO2, oil, detergent) and his leather bench strops. The Old Dog he sent me was a beauty, long, broad and thick horsehide, smooth latigo one side and the same impressed with a pattern on the other (something I've never found very useful, but I'm only concerned with the smooth side here). You know I love my Dovo Red Russian strops, but there's one drawback and that's the narrow width. So I looked through my strops and decided to give the Old Dog a whirl. I wiped the dust off it, and decided the leather needed feeding to make it supple and increase the draw. Looking out my neat's foot oil I found I didn't have very much, so I rubbed that into the outer surfaces, and rubbed liberal amounts of jojoba oil into the back of each side, simply because I had a bottle lying around. It drank it up and asked for more, and after two applications the smooth stropping surface is gleaming and shiny and the whole thing is very flexible. Flexibility is good if you like to strop on a slack strop, but you don't want it so floppy that there is any side to side curvature. Here they are: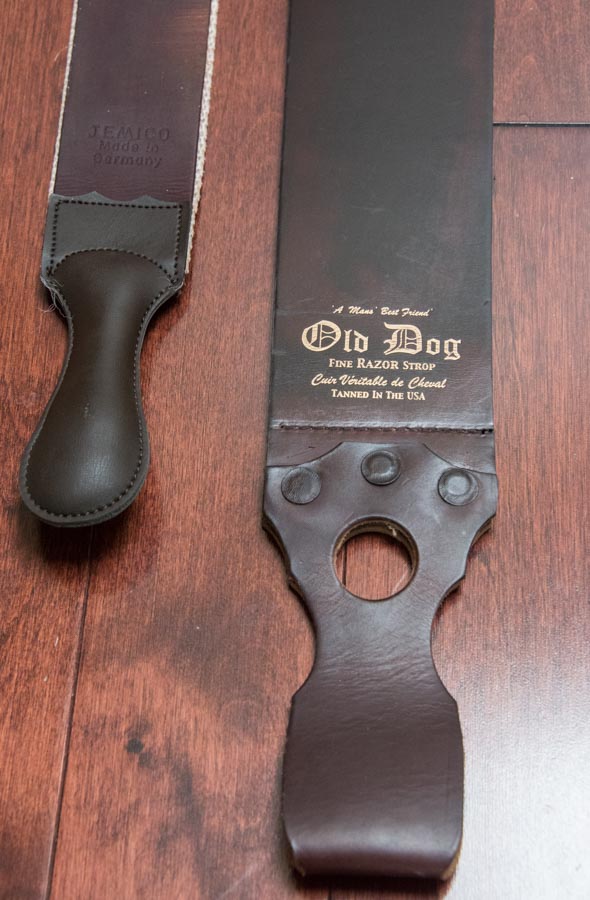 Seems to be working well so far. I'm still using the canvas back of the Dovo for the after shaving strop.
Chris