I had some time to work on a small project today. This started out as a .500" diameter length of 303 Stainless Steel bar stock. The overall length is 4" even. Being made from stainless the handle turned out nice and heavy.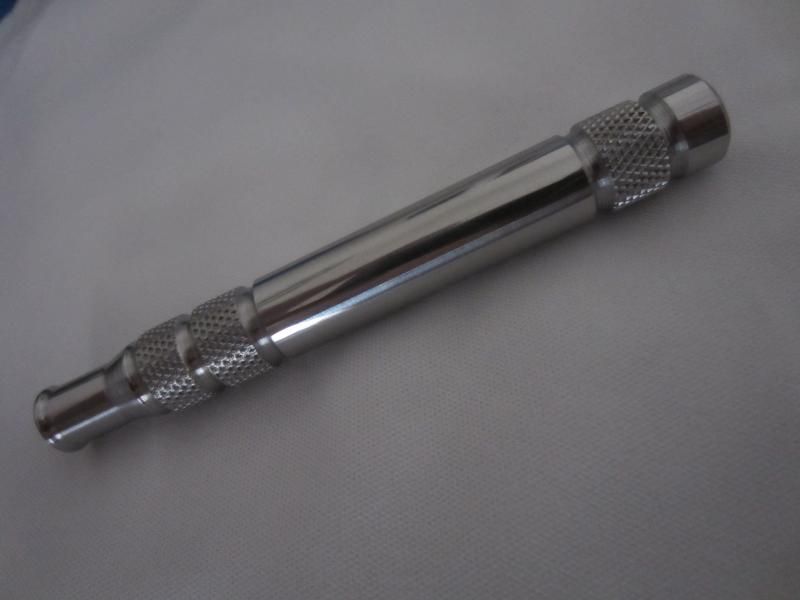 I decided to try my 5th DE shave with this handle attached to my EJ DE89 to see how I would like it.......... and I LOVE IT.
I took great pains to make certain my beard was prepped and softened so that my shave would not turn into a self mutilation again.
The first thing I did was install the head on the handle
without a blade
loaded. Next I closed my eyes and started practicing my shave technique, hold the razor at 30*, bring the razor to the face, and let the razor descend down my cheek by just letting the weight of the razor slide over my beard. What I discovered actually surprised me............. even with an empty razor I was pressing the razor into my face applying far too much pressure to the razor.
OK now it was time to load a blade and see if I couldn't get thru a shave without cutting myself up to look like a tomato.
A hot, wet, towel was held to my face for a minute, then I made a lather and spread it out letting it sit there for several minutes. Another hot towel and I wiped all the lather off and applied olive oil as a pre-shave oil. Nivea Sensitive Skin shave gel was applied over the oil and I was ready.
I hoisted this telephone pole of a razor and just let the razor fall over my beard, no pressure, no hurry just pure shave. I had to do several strokes over the same area because I had 5 days worth of white wire to mow down.
The razor performed quite well and the time spent on the blade less shaving worked wonders ............ I didn't nick myself once! No weepers, no irritation and no razor burn! I think I've finally mastered this manly shaving technique! My wife even enjoyed rubbing her hands on my face and saying "That's Smooooooooth!"

Here's a tip for all of us Noobies out there ........ Try practicing with a blade less razor with your eyes closed and I'm will to bet you will improve your shave performance.
Take Care Folks