I've been working on this for awhile now, months in fact. It took me awhile to get the ingredients as some had to be made from scratch; but I prefer to control the entire process when I can, from primal cut to the finished product. Unless you demand the same attention you can buy commercial products and shorten the time required from desire to finished product.
For those folks from the NY/NJ/Philadelphia area you'll know what this is. If you've moved away, you might have the addiction for this "King of sausages" or it can also be a cold cut. If you've never tasted it, read no further and spare yourself the addiction to the product. It's absolutely delicious.
There are other "pork rolls" made and available in that area. Made I suspect to cash in on the reputation Taylor Pork Roll made. None that I eve had can hold a candle to the genuine article. This is very close to the real thing and maybe better.
Is it involved? Yes. Is it anymore difficult than any other sausage? No, it just takes a bit longer, but it's actually easier to make than sausage done in a natural casing. If you have a grinder you can make this. Just take it one step at a time. Trust me on this... it's worth doing.
Find the recipe here:
http://lpoli.50webs.com/index_files/New ... rkRoll.pdf
If that link ever breaks let me know I have the .pdf on disk. This recipe is never getting away from me. That should tell you something.
I've posted this on the BBQ forum I help moderate, so I'll post the thread here rather than reinventing the wheel. FWIW, this recipe DOES NOT use BBQ.
Note: for the souring bacilli I use LHP as per the recipe. Anyone wanting the data sheets regarding it, just contact me.
FWIW, I made my own Buckboard bacon from boston butt for the recipe (apple smoked) and initially I thought it had too much fat content, possibly a little less fat would be ideal, but I'd do the buckboard bacon again in a heartbeat. But next time I intend to use homemade Canadian bacon just to try a lower fat content pork roll.
---------------------------
It's time to update this recipe thread.
Here are my recipe notes and ramblings.
BTW, for fans of TPR, the above recipe may not be exact, but's it's awfully close. We have yet to do a side by each taste test. That will be soon. Too, we haven't broke open even one of the fabric encased sausages. All of this will occur quite soon.
Brians procedure for the knockoff TPR
(TPR=Taylor Pork Roll)
All ingredients are the same as above recipe.
Mix the LHP with 1/4 to 1 cup of tepid water at least ½ hour before using. DO NOT kill the baciili with water that is too warm. Cooler is definitely better than too warm here. LHP is expensive (relatively) and has a shelf life so you probably only have one packet the same as we do, don't kill the little bugs that make the magic happen.
After cutting the meat for the grinder, I sprinkle the previously mixed bacilli onto the meat along with the other ingredients. Spread it on the meat evenly and mix if possible. Use 1/4 of the packet of LHP as per the separate LHP documentation (anything less than 100# gets 1/4 of the packet).
Anyone wanting this LHP data just contact me via-email and I'll send along what I have.
Since I don't have a meat mixer I put my cut meats onto 3 baking sheets to sprinkle the bacilli and spices and such onto the cubes. Then I took handsfulls of the mixture, alternately from each pan, and placed them into honkin huge Cambro containers. I tried to make sure to randomize the areas of more spice with the areas of less to even things out. If you don't have Cambro containers use huge bowls. But you have the idea.
Then I grind. That grinding further mixes the mixture. Any liquid gets mixed in, as best you can, into the sausage.
Stuff into casings, and vac pack the sausages. We used a 2" "sausage" tube on the Ankarsrum grinder for this. It'll go really fast. After making sure the casing was full and stuffed (twist the top like a tourniquet (SP?) to force the mix to fully inflate the casing) we used butcher string to tie them shut.
Allow to cure at room temp' (nominal 72°F) for 20-24 hours. I'm still working on the fermentation time. 23 hours of cure time imparts a nice sour. The wife claims it to be too sour. But I'd rather have a bit too much than to have to search for it. Our neighbors loved it with the longer cure time. Keeping it at the suggested temperature in the above recipe would probably tend to allow it to cure faster since the bacilli would be happier. Too, be sure you use dextrose. That's the food for the bacilli and without it, well, you need to feed the bacteria.
What I did to determine the strength of the sour taste was to keep some sausage mix in a baggie, and just fried some up periodically and put the tongue to work. You should do the same. I wouldn't even bother testing it before 12 hours. Eating it without cooking means you'd be eating live bacteria. It probably wouldn't kill you since it's a lactobacillis and everybody has them in their mouths and gut anyway.
Finish as per above recipe.
I used the Sous Vide bath to maintain the temperature of the pasteurization bath the 2nd time, but the first time I used the stove top. So a SV circulator isn't required.
To make casings:
I went to the cloth outlet and talked to the salesperson. I didn't know what I was looking for, but I brought an old TPR casing with me as a sample. They didn't have that fabric.
What I walked out with is (from the sales slip) BRND DRILL 40 unbleached.
Using my 40" wide material I found that rectangles 13 ½" x 14" to be about perfect.
For less waste I divided the 40" width into 13.5", 13.5", and approx 13.5" as a remainder. The 13.5" dimension will be the casing length. The 14" dimension will form the girth of the casing. I sewed a radius on the bottom of the casing, but sew it any way you please. Obviously it needs to be sewn in such a way to form a casing. TPR uses some sort of a stitch that our 1910 vintage sewing machine can't make. It sort of goes round and round (from what I can see) to gather all of the excess fabric together and prevent unraveling. My casings all unraveled somewhat when I washed them (by hand). It was no big deal. To make sure the casings would hold together I double stitched them. That might be overkill, but it worked. Wash the casings to remove the sizing/starch whatever it is that's in the fabric.
If your sewing person is capable of producing a "serge stitch" (at least that's what my sewing guru thinks it's called) have that put on the casings. That's what Taylor uses on their stitched casings. It will prevent the fraying that I've gotten every time I hand wash my casings. (I just googled it, yup, serge stitch is definitely what you want. But it's not a deal breaker if it can't be done. Our sewing machine from the Dark Ages can't make the stitch either. )
After filling the casings I vac packed them for the fermentation. They stayed in the vac bags throughout the pasteurization process, and then into the freezer.
One difference between TPR and this recipe. Since ours gets cooked in the bag there is "juice" in the bag after everything is said and done. If that bothers you, drain it out. I figure it'll drain all on it's own when I open the bag to slice it up, so I won't bother with it until then. It's the same gelled juice that's seen in a can of Spam. It's natural gelatin... no big deal.
Frankly, I look forward to opening one of the sausages, the test bags taste fantastic. Oh, to halt the fermentation in the test bags refrigerate until you can cook it up. Cooking it kills the bacilli and obviously halts the fermentation once and for all.
That's all I can think of.
I'll update this again once we dig into the finished product, do our taste tests, etc.
------------------
Slicing the gathered fabric end off of the extended fermentation roll (23hrs at 72°F) here's what we have after the entire process is complete. The "sausage" has been frozen for a few days then partially thawed. Bear in mind it's precooked so it can also be a "cold cut". It's delicious that way.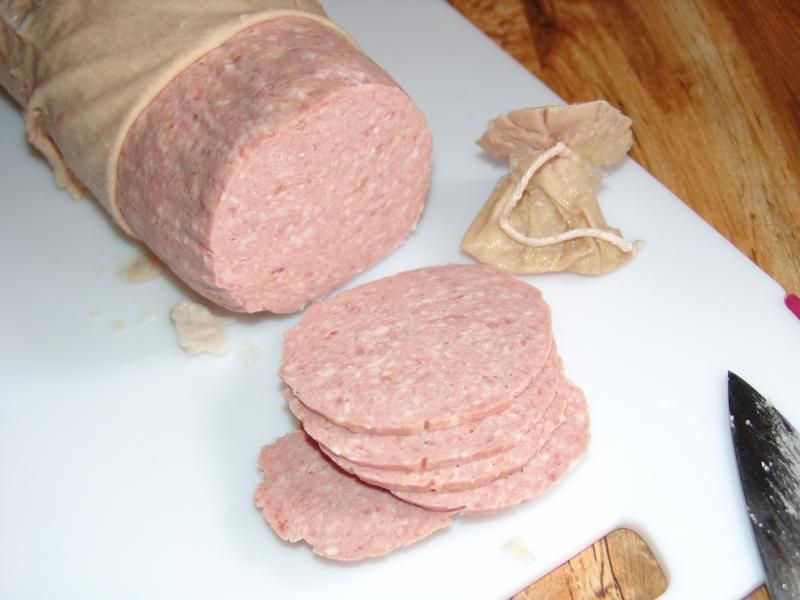 The taste cold is IMO better the genuine article. I like this degree of fermentation.
------------------------------------
I far prefer the stronger sour of the 24 hour fermentation. The wife prefers the 18 hour.
That just means you need to keep a baggie of uncased meat available to judge when it's right for you.
From now on I'll ferment it for 24 hours since it wasn't a deal breaker for her.
BTW, our neighbors couldn't taste the sour in the 18 hour fermentation, but thought the 24 hour version was delicious. They'd never tasted the genuine article before (and still haven't).
Too, in the past, with the genuine 3# "sausages" of TPR I'd slice what came in and vacpak it and freeze it. From now on I intend to freeze only entire sausages. There should be less morphing of the pork roll in freezer storage.