Tried it out for the first time, and it's not hard! This is the stuff used for profiteroles, chocolate eclairs and the dreadfully decadent croquembouche.
With cream cheese, fresh figs and cream:
With whipped cream, strawberries and chocolate sauce: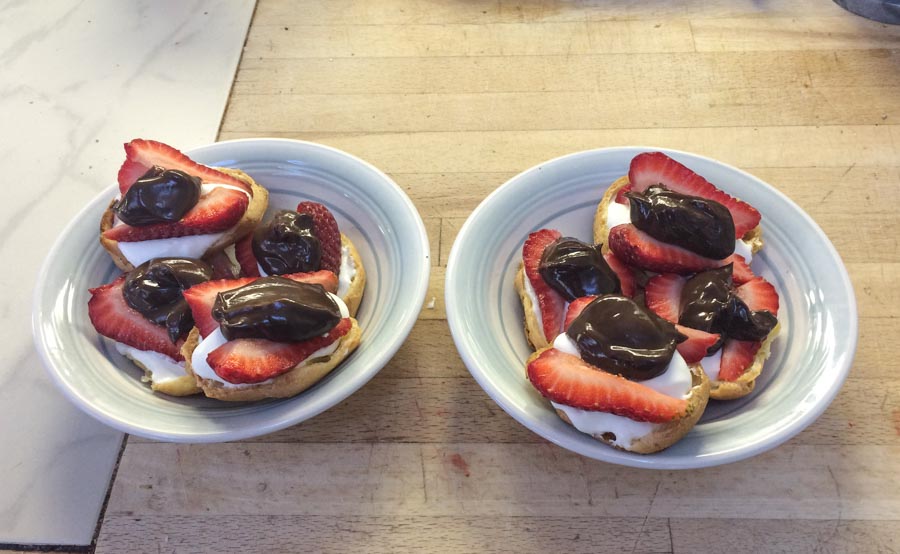 You make it rather like hot-water crust pastry for raised pies.
60g strong/bread flour (high in gluten)
150ml water
50g butter chopped small
2 eggs, beaten
Preheat oven to 400ºF
Grease a baking tray, then wet it and let excess drain off (the extra steam will help them rise)
Place water and butter in a saucepan and bring to a boil, remove from the heat and dump in the flour all at once. Mix until you have a dough that just begins to pull away from the sides of the pan, then mix in the beaten eggs. Spoon or squeeze from a forcing bag onto the baking tray. Bake for 10 minutes at 400ºF on the top shelf, then increase temperature to 425ºF for 15-20 minutes. When browned, take out, place on cooling rack and pierce each with a toothpick to let out the steam. They should be crunchy on the outside and soft and custardy on the inside (not like the soggy cardboard of bought versions). When cool, cut in half and fill as desired.
Chris