Both of these razors, the Heavy Flat Top (often misnamed the G-Bar) and the Featherweight harken back to the 1950s. From the little bit of research I've done I believe that the HFT was out first, followed shortly by the FW. As you can see in my pictures below the head shape of these 2 razors are almost identical. I've read that some say they are the same head, but just from looking at them side by side I can see a couple differences, though definitely minor. The name itself gives you an idea of what they were after in designing these razors, a flat top! Some advertisements I've seen actually suggest to use these razors with the head flat against your face. This, unfortunately, isn't what I've found to work best for me. I'll start that way and then lower the handle just a bit so the head is barely off of my face and this is the angle that works best for me. Both razor utilize the solid guard bar as opposed to the closed-combs of the 1912s. I personally get a much better shave from the solid guard bar over the closed-combs.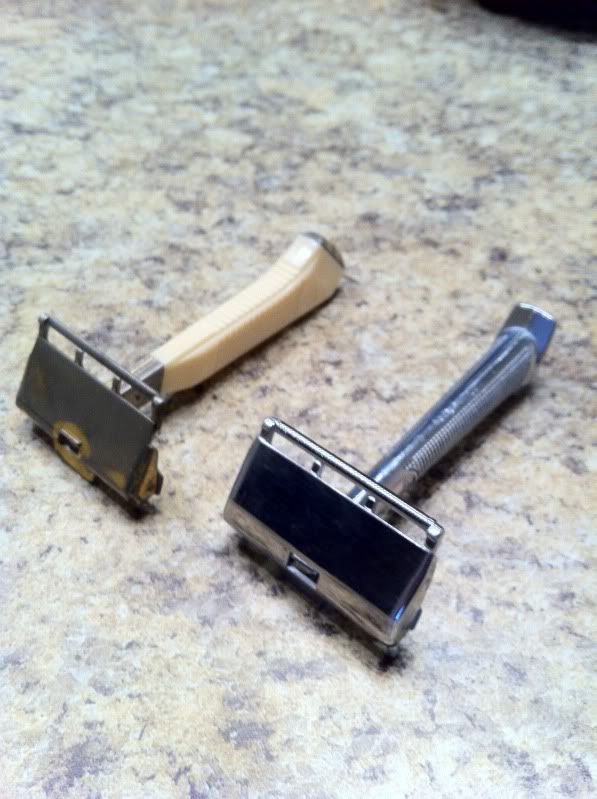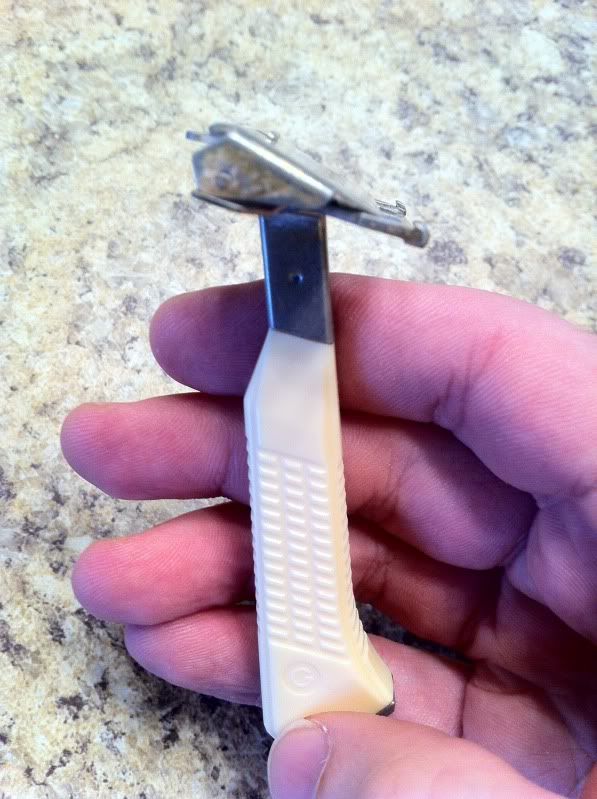 Other than overall looks the only other thing really different with these razors is the total weight. From their names I'm hoping you don't need me to go into further detail. If you do, then please sell off all of your safety razors and go back to using disposables so you don't hurt yourself. There is some debate in the wetshaving world as to whether or not razor weight contributes to the aggressiveness of the razor. From using both of these razors my conclusion is that a heavier razor does lend itself to being more efficient. I can achieve the same results with both razors but a different number of passes is required. The FW always needs more face time to get the same result as the HFT for me. If I do 3 passes with the HFT, then the FW will require at least more touch-up if not a full extra pass. The more passes I perform, the more likely I am to have irritation. This is why the FW, despite its lighter overall weight, typically gives me some irritation while the HFT does not.
While these razors share very similar, if not the same, heads their handles are completely opposite. To me the HFT is one of the sexiest razors our there. The plating on these are phenomenal which keeps these looking great even as they are 50-60 years old. This is great except that it keeps the price of these razors a good 3-4 times higher than other SEs. The knurling on the HFT handle is definitely not rough, but I've never had one slip out of my hand either. Some have made comments that the bottom nub is annoying, but for me it fits perfectly in my grip right between my pinky and ring fingers. The bakelite material of the FW is very easy to grip thought not the prettiest thing to feast your eyes on. You can definitely zip this razor all around your face so long as you keep a light pressure
I could easily use the HFT as my daily razor. It's efficient enough and very smooth. A MMOC it is not, but still quite capable. I rarely use the FW anymore, however, if I have a bad windburn, sunburn, or crazy razor burn then I would definitely consider using the FW if I was in a must shave situation. You must be careful with the FW not to add pressure during your shave because of how light it is. Subconsciously you start pressing down with it more since it's harder to feel on your face, but this is not necessary and will likely lead to a good bit of irritation.